FEATURE ︎︎︎
BLVCK BLOCK:
strength
in numbers
︎ ︎︎︎
︎
How do emergent South African artists sustain themselves long enough to practice professionally in a country
forecast by the World Economic Forum
to have the highest recorded unemployment rate in the world this year? Even fine art graduates from SA's most prominent institutions are often lost post-graduation, and ultimately, the majority enter other industries. Or, as they have historically done, leave the country. Interestingly, many young artists are finding the greatest level of support amongst each other, and
BLVCK BLOCK
is a striking example of this. INCCA spoke to members Lesole Tauatswala and Bulumko Mbete, who recently curated an innovative exhibition at the collective's new physical space at the Creative Uprising at the Transwerke building within Constitution Hill in Johannesburg.
---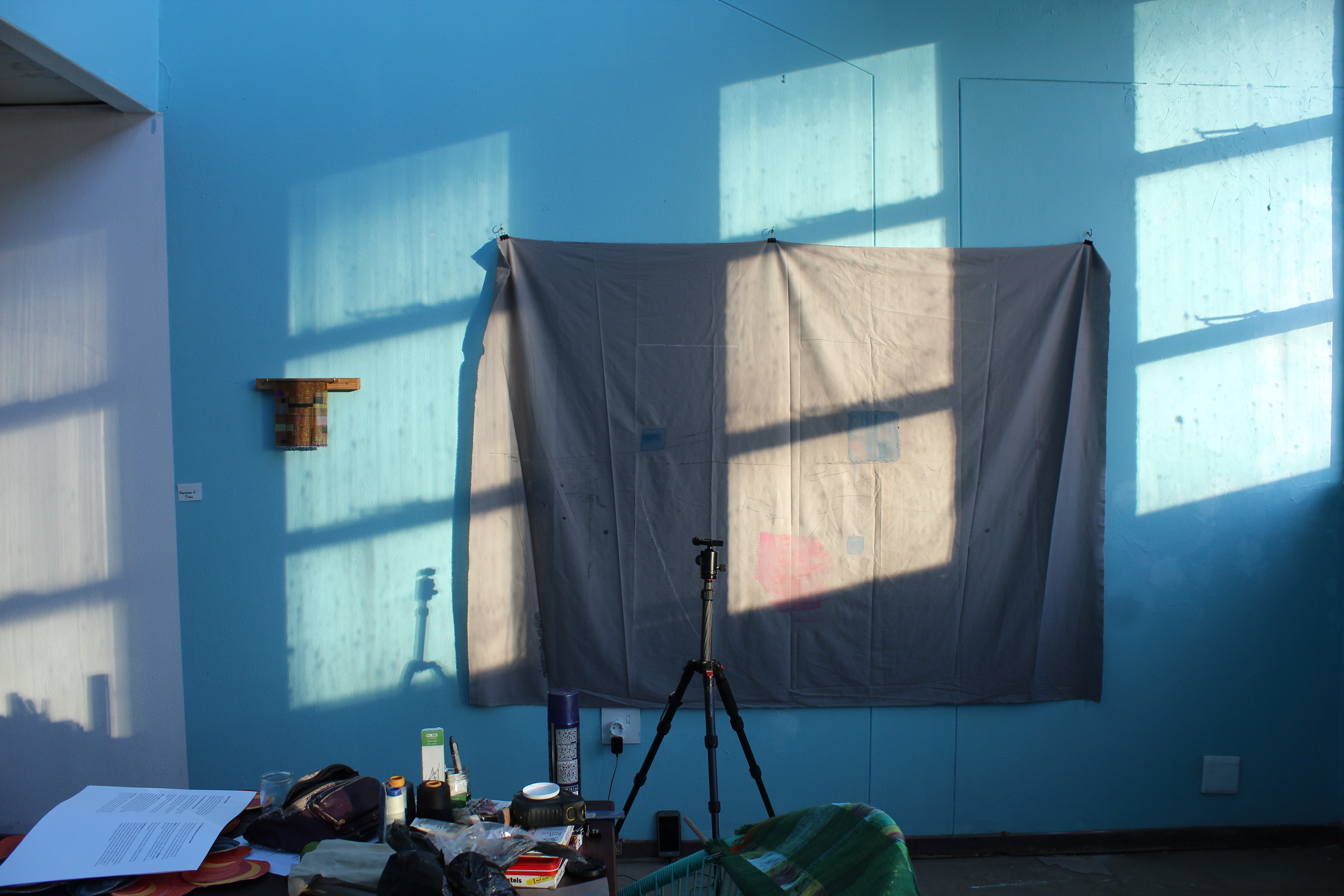 In 2017 Solomzi Moleketi and a group of students at Wits School of Art (WSOA) were insightful enough to find strength in collaboration and independent resourcefulness from their very first year at university. They initiated BLVCK BLOCK in order to realise independent exhibitions together in Braamfontien's Reserve street. "Because the group was so intimately connected and wanted to be successful," reflects Mbete, who is Moleketi's cousin, "I think that intention molded what BLVCK BLOCK is today." The initiative has evolved into a shifting collective that coalesces individual capacity in powerful ways. "Everyone has different strengths… We are creating a collective around what these strengths are and how we can leverage them." In addition, BLVCK BLOCK considers the fluctuating demands of independent artists. "The group is continually changing over time," Mbete continues, "depending on who is able to collaborate at the time, who has capacity."

Highly multidisciplinary and also artists starting to find success themselves, Mbete and Tauatswala acknowledge the frustrations of trying to establish a bridge between graduation and professional practice. "The trajectory from art school to the outside is very difficult actually," says Tauatswala.

While BLVCK BLOCK has its roots in WSOA, Mbete studied at the University of Cape Town's Michaelis School of Fine Art, which offered professional practice classes, yet led her to heavily question "how do you sustain yourself outside of university, how do you establish yourself? People realised very early on they would have to do a lot of the work themselves." And, in an art world that on a global scale has vast inequality issues, for many young artists who simply don't relate to existing spaces and structures, collaboration can generate new ways of working. "I think for me it's also the ability to be able to experiment," says Tauatswala. "We create a space to do completely different things, but we also privilege critical engagement."

The pandemic led BLVCK BLOCK to reflect on what existing structures – such as galleries and institutions – could offer and for them it was, very simply, walls, Tauatswala explains. Instead of being at mercy of the idiosyncrasies and internal strategies of mainstream spaces, an angel investor has allowed BLVCK BLOCK to rethink what having those walls can be, and how to utilise physical space. What is clear to these artworkers is that there is room for reimagination.

The first exhibition that BLVCK BLOCK hosted at their new physical space at Transwerke is a beautiful case in point. The space itself resembles an apartment – the building was once a maternity hospital, where midwives lived and during apartheid were sent to deliver babies in the Women's Jail further up the hill. The building has had various lives since, but in the past few years has arguably transformed into its most exciting iteration: the Creative Uprising, a hub for micro-entrepreneurs working in any creative discipline including but not limited to visual art, design, fashion, music, film, technology, media, heritage and performing arts. Prior to moving into their new space, Mbete explains that she was thinking about curating something in her own home. Memory Proceeding had a first iteration installed in Mbete's apartment, and then became BLVCK BLOCK's first exhibition in their Transwerke residence. The space exudes the delicate care and consideration of a personal domain more intimate than a gallery or a museum. Small interleading rooms are dedicated to distinctive photographic work by artists such as Tauatswala, as well as Shana-Lee Ziervogel. The acidic-toned paintings of Lwando Dlamini appear, perhaps, more at home here than they do on the dry walls of an art fair booth.

There's always strength in numbers.It can be difficult to do something on your own
But it is in the "living area"of BLVCK BLOCK's space where the ethos of the collective as well as the core concept of Memory Proceeding comes together most prominently. Here, candidly, are unpretentious traces of the way in which an exhibition unfolds. Rather than being manicured and polished, a table in the center reveals artwork in process, a communal studio of sorts. Part of the homeyness and playfulness of this space is connected to a work within a work. Artist Nyakallo Maleke was invited to realise a research residency as part of the exhibition, and her own works seem to intermingle with that of others such as Duduzile (DuduBloom) More and the beaded wall hangings of Mbali Mthethwa's collective, The Herd Designs, who were recently invited to collaborate with kate otten architects on an extraordinary installation at the main exhibition curated by Lesley Lokko for the Venice Architecture Biennale. When I ask Mbete where the video programme mentioned on the wall text can be viewed, she smiles and points to an iPad sitting on the table, which anyone is welcome to pick up and watch.
The space reveals the way in which
Memory Proceeding's
aim of fostering community amongst creative practitioners is not only about the final product; it is evident that both the process and the way in which visitors are enveloped into this world are important. It should be noted as well that
Memory Proceeding
is supported by
Creative Knowledge Resources (CKR)
, a project funded by the National Research Foundation (NRF) and the University of Cape Town. BLVCK BLOCK started amongst students, but their collaborations have now extended to more formalised entities that equally emphasise collaboration and engagement, revealing a true shift in what is valued and how.
Visual artists are historically insular, and so, often, are the places that they show their work. All of that melts away when you enter
Memory Proceeding
, and BLVCK BLOCK's new home, justifying Mbete's simple explanation for why she doesn't focus purely on her own practice: "There's always strength in numbers. It can be difficult to do something on your own."

Above: The first iteration of Memory Preceding at Bulumko Mbete's apartment. Photographs by Thabo Mthombeni